The Kitchen is the Heart of Your Home
The kitchen is one of the most important spaces in your home. It is both a centrepiece and a hub for the family to come together. Cooking your favourite meals sounds dreamy. But when your kitchen is completely cluttered, the experience isn't as dreamy. At the Art of Decluttering, our approach for kitchen decluttering is to begin with a vision for what the kitchen could look and feel like.
What do you love about your current kitchen? Do you love drawers for storing crockery? What drives you crazy? Is your bench always full of appliances that reduce your preparation space? We spend so much time in the kitchen that we need it to be simple, organised and decluttered.
Kitchen decluttering is not a complicated science. There are easy ways to make your kitchen more functional.
Using storage containers in the pantry to keep like items together will make cooking/tidying up and shopping easier. Keep raw ingredients in labelled, clear containers to keep them fresh and organised, but also so that you don't keep buying items you already have in the pantry. Using open containers for things like spreads, oils, sauces and meal bases makes meal preparation easy. And the best part is? Everyone knows where things belong to pack up after themselves too!
In pantries, just as in the fridge, shelving should suit your needs. Keep the items you use most at the front and in arms reach and less used items near the ground or on the higher up shelves.
How do you decide what you keep and what you throw out?
Our ideal kitchen decluttering rule of thumb is that if you haven't used it in 12 months, and don't have plans of using it in the next 6 months, it might be time to let it go. This is especially true in the kitchen for items we keep for Christmas or special occasions. To keep them, they should be used at least once a year.
When it comes to small appliances, we suggest you think about if you have another appliance that performs the same function. If you have two sandwich presses, can you just keep your favourite? If your coffee machine has an inbuilt grinder, the separate grinder can go. If you have a food processor, do you also need a smoothie maker? If you have 5 salad bowls, but never serve more than two salads at once can you declutter three?
The Art of Decluttering has a team full of experts who can make your kitchen decluttering dreams come true. We're happy to help you turn your kitchen into one of the favourite places in your home.
4 Tips for Kitchen Decluttering:
Figure out what you have
Have all the dishes done and put them away before you begin so you can accurately see what you have and how much space it takes up.
Tackle the pantry separately
The pantry should be a separate job from the kitchen, so it's not too overwhelming. Do the kitchen first and pantry second. Take everything out of the cupboards (not pantry) and sort them into categories; baking, roasting, serving, crockery, etc. Then decide which ones you actually use, and which ones are extra to your needs.
Put like items together
Put things back into the cupboards with like items, so baking all together, etc. If you're keeping something (platters or servingware) for the chance you might host a dinner party for 20, consider if you could instead borrow what you need from a friend or neighbour if that occasion arises instead of taking up precious space in your kitchen.
Store items based on their priority
Any storage space in your pantry that is between waist and eye height is prime real estate. Place items that you use the most here. Group like items together and consider who will access them. If your child gets their own breakfast, then place the cereals together on a shelf they can reach. If you want to keep treats away from little fingers, a higher shelf is a great idea.
Bonus tip: Keep heavy items on the ground or bottom shelves where possible, so they don't accidentally fall on someone. Things like bulk rice, bottles of drink or large containers of olive oil are best kept low.
What should I do if my kitchen has no pantry?
If you've ever walked into a friend's home and seen their perfect walk-in pantry, we know the feeling. Not all kitchens have the luxury of an ideal pantry. But that doesn't need to take away from your kitchen decluttering. One solution is to use overhead cabinets. They can be used for containers, cereals and other items. Bookshelves are another solution that can also be repurposed if you move out one day. The last solution is to reorganise your drawers with clear containers or separators. This way, you'll be able to keep items tidy and easily locatable.
Kitchen decluttering is all about being creative. Here at The Art of Decluttering, we help our clients reduce the mess and celebrate the small wins!
How we can help you:
We have decluttering packages to suit your kitchen decluttering needs!
When you book a session with us, we'll walk you through every step with:
Practical hands-on assistance
Training in establishing routines, systems and processes
Encouragement, guidance and motivation
A shoulder to cry on, someone to laugh with, your own personal cheer squad
Have a look at some of our favourite client wins: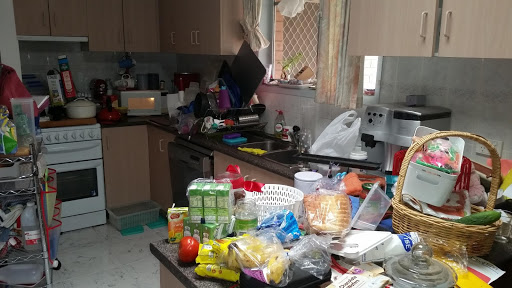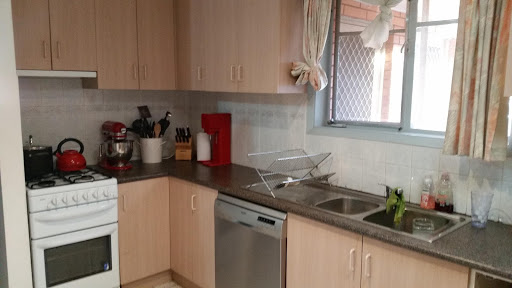 Listen to our favourite Kitchen Decluttering Podcasts